Biographies of the Designers
& Model of the Sacagawea Dollar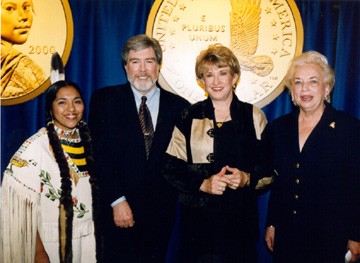 LEFT TO RIGHT: SACAGAWEA DOLLAR MODEL RANDY'L HE-DOW TETON;
REVERSE DESIGNER THOMAS D. ROGERS, SR.;
OBVERSE DESIGNER GLENNA GOODACRE;
TREASURER OF THE UNITED STATES MARY ELLEN WITHROW.
---
Glenna Goodacre
Obverse Designer


FLYER FROM THE 2000 ANA
CONVENTION AUTOGRAPHED BY
GLENNA GOODACRE

Glenna Goodacre is the designer of the obverse of the Sacagawea Dollar coin. Before creating the winning design, Ms. Goodacre was already a distinguished, award winning sculptor. Her best known work is the bronze Vietnam Women's Memorial in Washington, DC. Another of her noteworthy accomplishment is the 7ft. bronze portrait of President Ronald Reagan in the Reagan Presidential Library in Los Angeles, California. Besides the numerous bronze busts and sculptures she has created for private collections, she has over 40 bronze portraits displayed in public locations throughout the United States.

LINK: Glenna Goodacre, Ltd.
---
Thomas D. Rogers, Sr.
Reverse Designer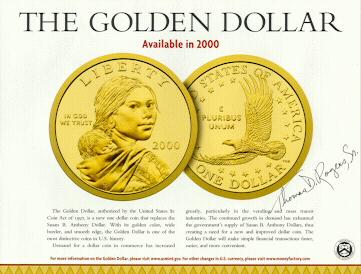 ADVERTISING FLYER PUT OUT BY THE U.S. MINT
AUTOGRAPHED BY THOMAS D. ROGERS SR.
Thomas D. Rogers Sr., designer of the reverse of the Sacagawea Dollar, joined the U.S. Mint as an engraver in 1991. Mr. Rogers has enjoyed a career of engraving medallions and winning national competitions for over twenty years. Included in his list of accomplishments is more than ninety portraits of inductees that hang in the Basketball Hall of Fame in Springfield, Mass. During his tenure as an engraver for the U.S. Mint, Mr. Rogers has designed no less than twelve commemorative coins, three State Quarters, two U.S. bullion coins, and ten mint medals. Mr. Rogers retired from the Mint in 2001 and has resumed a freelance design and sculpture career, accepting commissions for the graphic design and sculpture of medallic art in the form of medals, portraits, nature art, logos, and plaques.
LINK: Thomas D. Rogers, Sr, Inc.
---
| | |
| --- | --- |
| Randy'L He-dow Teton is the model whose likeness appears as Sacagawea on the golden dollar. At the time she modeled for designer Glenna Goodacre in 1998, Ms. Teton was a 22 year old college student at the University of New Mexico. Ms. Teton was chosen to model when Ms. Goodacre approached the Institute of American Indian Arts Museum (IAIA), in Santa Fe, New Mexico asking if they knew of any Shoshone Indian girls who might be interested in modeling for the new dollar coin. It just so happened that Randy'L's mother, Bonnie Wadsworth, worked in the admissions office. She quickly volunteered her daughter, and as they say, "the rest is history." Ms. Teton was raised in Lincoln Creek, Idaho on Fort Hall Reservation, home of the Shoshone-Bannock Nation. | |
Ms. Teton is of Shoshone-Bannock and Cree heritage. Commenting on her likeness being chosen for the golden dollar Ms. Teton said "This is truly an honor. I am honoring my ancestors in this way. But the real honor is having a Native American on the coin. That is an honor for all Indian people."