Vending Machine Test Pieces
These pieces were struck in 1979 by the U.S. Mint. They were struck not for testing alloys or designs, but for use by manufacturers in testing the new small size dollar coin in coin counters, coin wrappers, and vending machines. These manufacturers were only interested in the physical dimensions and the electrical resistance characteristics of the new coin. These experimental pieces were struck on the same planchets that the Anthony dollars were struck on, but with dies that had an eleven-sided rim and shallow mounds in the center to simulate the raised relief of actual coins. The pieces were struck with a reeded edge. There were also some pieces struck on 25% Cu, 75% Ni planchets, i.e. solid copper/nickel alloy planchets, minus the copper core.
It is presumed that they were struck by the thousands, but very few survive today. This is due to the fact that most were either returned to the mint, destroyed, or lost by the vending machine manufacturers.
Another aspect of these pieces is if they are legal to own. When asked to give his opinion on the legality issue, Andrew W. Pollock III, author of United States Patterns and Related Issues, stated, "I'd suspect that these items would be quite risky to own. Since they were not really issued, but rather, as I understand it, loaned out to vending machine companies for tests, the government might claim ownership." <FEBRUARY 6, 2001> These pieces are listed in Mr. Pollard's book as numbers P-2089 & P-2090.
---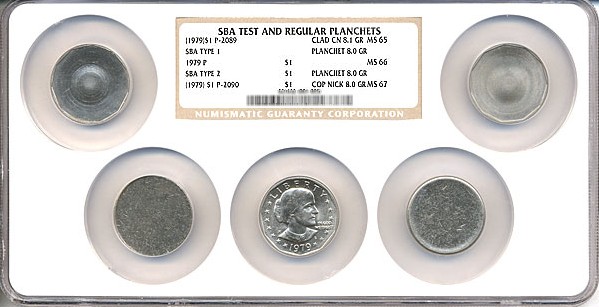 PHOTO COURTESY OF DAVID LAWRENCE RARE COINS


Here is a nice set of Anthony Dollar test planchets and blank planchets in an NGC multi-coin holder. Click HERE to see a larger photo of the obverse and reverse.

This set consist of the following:
| | | |
| --- | --- | --- |
| (1979) P-2089 Vending Machine Test Piece Clad/CN 8.1gr | | (1979) P-2090 Vending Machine Test Piece Copper/Nickel 8.0gr |
| SBA$ Type 1 Planchet 8.0gr | 1979-P SBA Dollar MS66 | SBA$ Type 2 Planchet 8.0gr |