N.O.W. (National Organization for Women) FDC
Promoting Susan B. Anthony for the dollar coin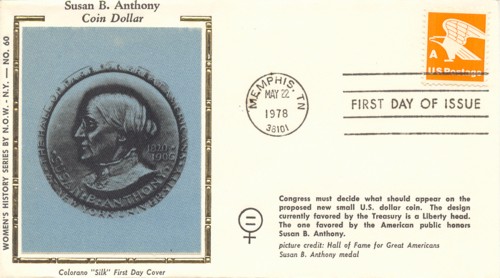 In 1978, while discussion was ensuing on who to put on the upcoming new small size dollar coin, the National Organization for Women (N.O.W.) got into the act by releasing this postal first day cover (FDC) to promote their choice of Susan B. Anthony. The accompanying information card states that fifty-four famous women had been proposed to the Treasury for the new coin. The top choice by the letter-writing citizens was by far Susan B. Anthony with 30.2%. The leading runners-up were Helen Keller (14%), Eleanor Roosevelt (9.9%), and Betsy Ross (9.4%). Susan B. Anthony had long been a popular choice to be honored on our nations money. As early as 1971, then New York Representative Seymour Halpern introduced legislation for Susan B. Anthony's picture to appear on the then proposed $2.00 bill. At the time this FDC was created, debate was still raging on what image to put on the dollar coin. The Treasury and Mint Director Stella Hackel preferred Frank Gasparro's Miss Liberty head design. But many other government officials were getting on the bandwagon that was promoting the use of Susan B. Anthony's image. One of them, Republican Representative Jim Leach from Iowa, and ranking minority member of the House Banking Finance and Urban Affairs Committee is quoted as having said, "I would rather have a fighter for Liberty, Susan B. Anthony".
| | |
| --- | --- |
| | |
| OBVERSE | REVERSE |
The medal depicted on this cover was created by Paul Fjelde and struck by the Medallic Art Company for The Hall of Fame for Great Americans at New York University. This medal was struck in both bronze and silver.

---