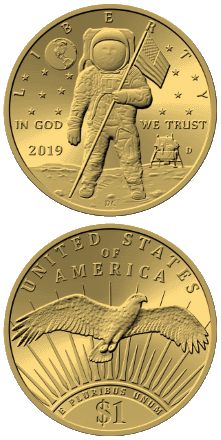 Satin Finish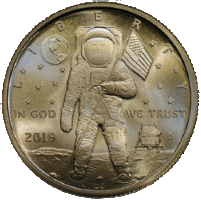 OBVERSE DESIGN
The obverse shows an Apollo Astronaut on the moon with a flag, Lunar Lander, and Earth in the background. The 13 stars in the background symbolize the future colonization of space.
Daniel Carr's Proposed Small Dollar For 2019

In the Fall of 2015, Daniel Carr, Moonlight Mint, created a beautiful design to commemorate the 50th anniversary of the Apollo 11 moon landing. Examples were struck over Sacagawea/Presidential "golden" dollar coins. In late November 2015, six examples of the proposed design were sent to Jim Kolbe, Co-Chairman of the Dollar Coin Alliance. The letter that accompanied the coins is posted below. It lays out a convincing case for a circulating dollar coin for the 50th anniversary of the first moon landing. Future plans are to send struck copies to the U.S. Mint, U.S. Congress, and other involved parties.
This is not the first time Mr. Carr has had a concept for a coin with an Astronaut theme. Previous designs have been for One Dollar and Two Dollar coins. They can be seen on Moonlight Mint's website. See other Daniel Carr proposed One Dollar designs at SmallDollars.com's website.




SPECIFICATIONS
Date

Planchet

Material

Finish

Diameter

Edge

Mintage

2019-D
(Struck in 2016)

Overstruck on a Sacagawea or Presidential Dollar

Manganese-Brass
Clad

Satin

27mm

Reeded

344

2019-D
(Struck in 2016)

Overstruck on a Susan B. Anthony Dollar

Copper-Nickel
Clad

Satin

27mm

Reeded

32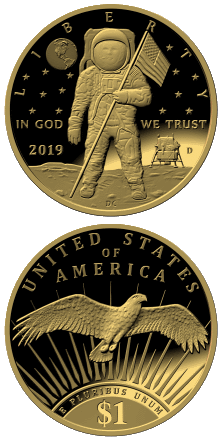 Proof Finish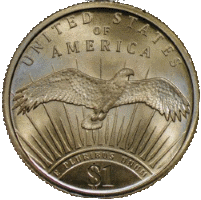 REVERSE DESIGN
The reverse shows an Eagle soaring above the Sun. Eleven major sun rays are a reference to the first manned Moon landing mission - Apollo 11.