2009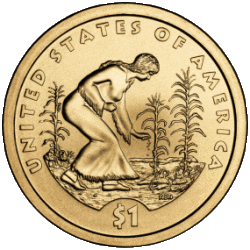 REVERSE OF THE 2009
NATIVE AMERICAN DOLLAR
| | |
| --- | --- |
| The Native American Dollar was first made available to the public on January 2, 2009. On this date they could be ordered directly from the U. S. Mint at at face value with the postage being paid by the Mint. They were available in rolls (25 coins) in quantities of 250 or 500 coins. This is believed to be the first time coins were available directly from the Mint at face value and postpaid. On January 15th they were made available in individual rolls at a premium ($35.95) plus postage. | ROLL OF 2009 NATIVE AMERICAN DOLLARS |
On January 17, 2009 hundreds of spectators in the Potomac Atrium of the Smithsonian Institution's National Museum of the American Indian (NMAI) watched as United States Mint Director Ed Moy and NMAI Director Kevin Gover performed a ceremonial pour of newly minted 2009 Native American $1 Coins from an authentic handcrafted Native American basket. The presentation of this new $1 coin was part of the opening activities for NMAI's three-day festival entitled, "Out of Many: A Multicultural Festival of Music, Dance and Story." The NMAI's three-day festival was part of numerous presidential inaugural celebrations planned throughout the Washington, D.C. area.
"With this coin, we hope to educate Americans, as the museum does, on how Native Americans helped make this country the premier food producer in the world," Director Moy said.
Following the ceremony, Directors Moy and Gover gave out newly minted 2009 Native American $1 Coins to each child 18 years old and younger. Adults who attended the event exchanged their paper currency for the $1 coin at the United States Mint's Real Change Exchange Truck outside the museum.