PRESIDENTIAL DOLLAR BLANKS, PLANCHETS,
PLANCHET STRIPS, & WAFFLED COINS
The blanks and planchets used for the Presidential Dollar series are exactly the same as those used for the Sacagawea Dollars. Therefore, they are indistinguishable from one another, that is, unless the Presidential Dollar blank or planchet was run through the edge lettering machine. If it was run through the edge lettering machine, the date and mint mark, "E PLURIBUS UNUM", and "IN GOD WE TRUST" will appear on the edge.
---

PHOTO COURTESY OF RAY & MARY SMITH

Here is the very first Presidential Dollar planchet found with edge lettering. It was discovered by Ray & Mary Smith of Colorado. Their lucky find was found in a roll of Washington Dollars that they obtained from their local bank. They received a $2,500 finder's reward for being the first to submit a lettered edge planchet to PCGS.

READ THE COMPLETE STORY




PHOTO COURTESY OF RAY & MARY SMITH


Photo credit: Professional Coin Grading Service
---
2008-P James Monroe Dollar
Planchet with Lettered Edge

Collector Garrett Reich of Michigan found this Presidential Dollar blank planchet while searching through a $1,000 box of James Monroe Dollars. It has been placed in an NGC holder. NGC was able to ascertain that the coin is in fact a 2008-P Monroe Dollar due to the date/mint mark on the edge and by the fact that it was found early in 2008 before any other dollars for the year had been struck. The edge lettering is complete on this planchet, albeit weak due to an unstruck planchet being slightly smaller than a struck coin.

Mr. Reich tells the story of his discovery of this coin:

"This coin was found by me in a sealed box of 1,000 James Monroe P dollars very close to the release date. I was carefully removing the coin from its roll because it appeared to be a weak edge strike coin. Upon removal I was astounded to find that it was actually a type 2 (raised rim) blank planchet dollar with weak edge lettering! I immediately consulted a noted expert on error coins regarding my find. The next day this coin was sent to NGC for authentication."

On April 23, 2008 this piece was sold on eBay for $20,000.00.

PHOTOS COURTESY OF GARRETT REICH


2008


TRUST


PLURIBUS


UNUM
---
2008-D James Monroe Dollar
Planchet without Lettered Edge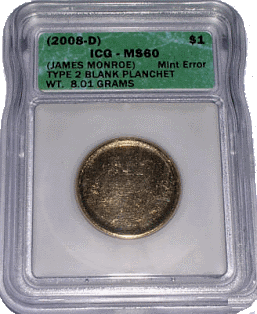 This blank planchet is not only accredited to be a 2008 James Monroe dollar,
it can also be determined to be from the Denver mint due to being found
in a roll of 2008-D James Monroe dollars that were sent to ICG to be graded.
---
GOLDEN DOLLAR PLANCHET STRIP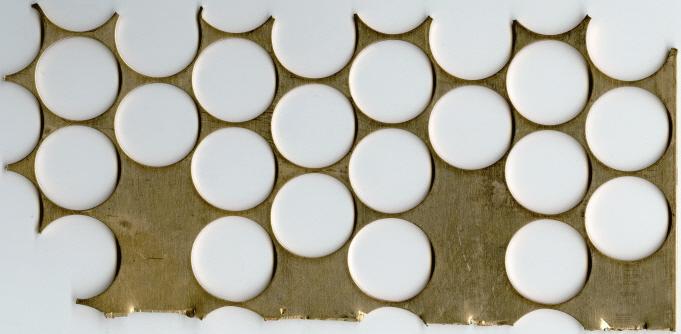 Here is a relatively large (8¼" x 4") piece of planchet strip for the golden dollar. Since the blanks for the Sacagawea Dollar and the Presidential Dollars are the same, this strip could have been used for either. This example has 17 complete holes and 15 partial holes. Viewed from the edge, it exhibits the pure copper core and outer layers of copper/nickel/manganese/zinc.
---
WAFFLED PRESIDENTIAL DOLLARS

GEORGE WASHINGTON DOLLAR OBVERSE

Before selling defective coins unfit for circulation as scrap metal, the U. S. Mint runs the defective pieces through a cancelling machine. The cancelling machine gives the coins a distinctive "waffle" pattern, hence the nickname "waffled coins". This cancellation procedure renders the pieces unusable in commerce. However, since they were cancelled inside the Mint's facilities, they have become highly collectible. Pictured here are two Presidential Dollars that have been waffled. Both pieces are missing the edge lettering.

Click HERE for larger photos

PHOTOS COURTESY OF FRED WEINBERG


JOHN ADAMS DOLLAR OBVERSE


GEORGE WASHINGTON DOLLAR REVERSE


JOHN ADAMS DOLLAR REVERSE


GEORGE WASHINGTON DOLLAR EDGE


JOHN ADAMS DOLLAR EDGE
---