Sacagawea Dollar First Day oF Issue
Commemorative Coin Cover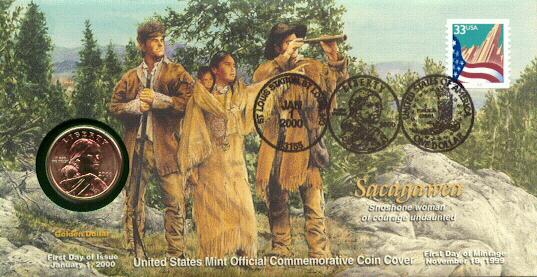 The United States Mint issued this Sacagawea Dollar First Day of Issue Commemorative Coin Cover. This limited edition cover (200,000 produced) features a Golden Dollar from the Philadelphia Mint struck on the first day of mintage, November 18, 1999. The display card portrays Merriwether Lewis, William Clark, Sacagawea, and her infant son Jean Baptiste "Pomp," with the 33-cent Flag-Over-City postage stamp. The postmark is from Saint Louis, Missouri, near where the Lewis and Clark expedition began on May 14, 1804. The date of January 1, 2000, marks the first day the Golden Dollars could legally be released to the public.
---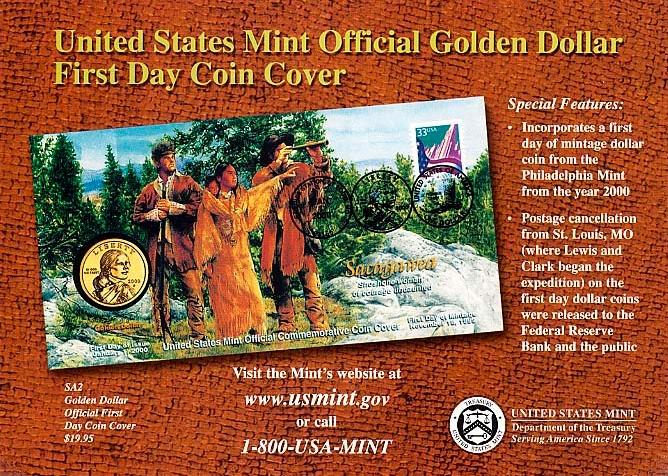 UNITED STATES MINT PRINT AD FOR THE SACAGAWEA DOLLAR FIRST DAY COIN COVER
---

Glenna Goodacre Signed First Day Cover

U.S. MINT FIRST DAY COVER SIGNED BY
OBVERSE DESIGNER GLENNA GOODACRE


MS. GOODACRE SIGNING THE FIRST DAY COVERS
(Photo courtesy of David & Mary Colleen Campbell)


CLOSE-UP OF GLENNA GOODACRE'S SIGNATURE

Numismatic related autographs have become very, very popular. Here is a highly collectable Sacagawea Dollar First Day of Issue Commemorative Coin Cover that has been signed by obverse designer Glenna Goodacre. Thirty-eight of these covers were donated by David and Mary Colleen Campbell to the New Mexico Nurses Association (NMNA) to be used as a fundraising project. Mrs. Campbell is a board member of the NMNA. The Campbell's asked Ms. Goodacre to sign the covers for this purpose. Each of the covers come with a Certificate of Authenticity attesting to the fact that it was signed on August 17, 2001 by Glenna Goodacre for the purpose of raising funds for the NMNA. The COA is signed by the three witnesses that were present during the signing. Others exist but are not accompanied by the NMNA COA.
---

Thomas D. Rogers Sr. Signed First Day Cover

THE BACK OF A U.S. MINT FIRST DAY COVER SIGNED BY
REVERSE DESIGNER THOMAS D. ROGERS SR.


CLOSE-UP OF TOM ROGERS' SIGNATURE
---
Postal Cachets Created by Thomas D. Rogers Sr.
Pictured here is a first day of issue cover that has four additional postal cancellations. These cachets were created by Thomas D. Rogers Sr., designer of the reverse of the Sacagawea Dollar. In 2004, Mr. Rogers was asked by the USPS to provide the original artwork used to create four pictorial postal cancellations to be used to cancel newly issued Lewis and Clark stamps. Mr. Rogers had each of the four postmark designs added to the inside of a Sacagawea Dollar First Day Cover. The cover now bears a total of five pictorial cancellations and seven cancelled stamps, counting the original ones on the front of the cover.

Mr. Rogers explains, "I was extremely honored to have been asked to design these pictorial cancellations, as I was to have had my design chosen to appear on reverse of the Golden Dollar, itself. I would like to think that as I was the designer of both the coin, and the postmarks, make these very rare and unique pieces. Ten of these were created, and bear one cancellation from the original issue, one from Fort Clatsop, in Astoria, OR., two cancellations from Cape Disappointment in Ilwaco, WA and one from Long Beach, WA."


PHOTO COURTESY OF THOMAS D. ROGERS SR.
---