Sacagawea Dollar VIP Strikes

First strike ceremonies for the new golden dollar were held at the Philadelphia Mint on November 18, 1999. Several hundred dignitaries, collectors and invited guest attended. One of the activities was the ceremonial striking of the first 2000-P Sacagawea Dollars by many on those in attendance. The attendees were not allowed to take the coins with them after the ceremony due to a law that prohibits a coins release prior to the date on the coin. Early in 2000, the coins struck by the attendees were sent to them as mementos. This is one of those coins. They have become known as "VIP Strikes".


PHILADELPHIA VIP STRIKE
OBVERSE

These coins were struck using specially prepared dies and planchets. They exhibit a duller satiny finish versus the brighter appearance on circulation strikes. They were also struck on a press that was calibrated to strike medals and coins for uncirculated mint sets, i.e. struck at a slower speed and higher pressure to bring up the relief of the designs.

According to a Mint spokesperson, they did not keep track of the number of Philadelphia VIP strikes that were struck. However, it has been estimated independently by both a mint employee and a member of the numismatic press who were each in attendance at the ceremony that less than 600 pieces were struck.

There were also 120 VIP strikes (this is an official mintage figure) struck during first strike ceremonies at the Denver Mint on February 25, 2000.


PHOTOS COURTESY OF JOHN E. HAGENSIEKER




PHILADELPHIA VIP STRIKE
REVERSE
---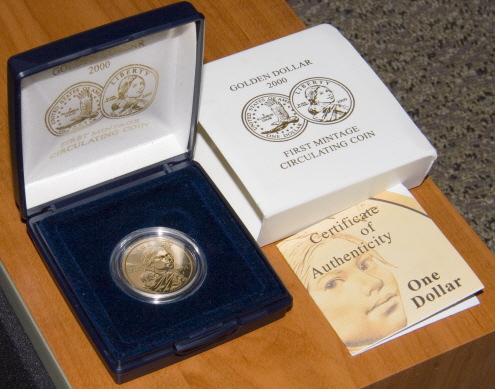 PHILADELPIA VIP STRIKE IN ITS ORIGINAL PACKAGING
PHOTO COURTESY OF JOHN E. HAGENSIEKER


The VIP dollar came in an air tight capsule that was housed in a presentation
box (left) with an outer cardboard sleeve (top right). A certificate of authenticity
from the United States Mint is also included (bottom right).