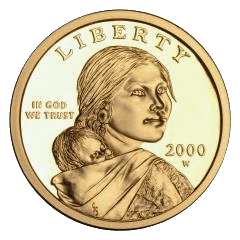 2000-W 22-karat SACAGAWEA
DOLLAR OBVERSE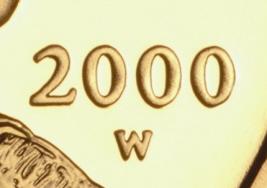 CLOSE-UP OF DATE
AND MINT MARK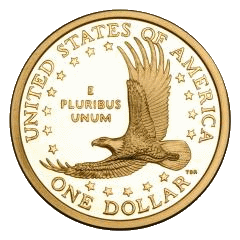 2000-W 22-karat SACAGAWEA
DOLLAR REVERSE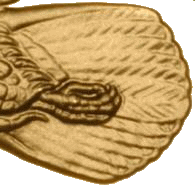 CLOSE-UP OF EAGLE'S
TAIL FEATHERS

On July 23, 1999, twelve 22-karat gold Sacagawea Dollars soared into space aboard the Space Shuttle Columbia. Appropriately, the Columbia was guided by its first female commander, Eileen Collins. The mint had announced that 39 of the 22-karat gold versions of the Sacagawea Dollar had been struck in June 1999. They were struck on 27mm planchets made of .9167 fine gold. These are the same planchets used to strike the half-ounce gold American Eagle bullion coins. These coins were dated 2000 and carried the "W" mint mark even though they were struck at the United States Mint in Philadelphia. They were inscribed with a "W" mint mark because the Mint planned to eventually strike duplicate coins at the Mint's West Point (N.Y.) facility and sell them to the public.

After picking out the best strikes, all but 12 of the dollars were destroyed. These twelve were placed aboard the space shuttle Columbia for their journey into space. Upon their return they were to be displayed at various museums throughout the country. The Mint had plans to strike these gold versions for collectors either with the One Dollar denomination or the Five Dollar denomination. After a public outcry, due to the Mint's lack of authority to arbitrarily strike these gold coins, the plan was abandoned.

In September 2001, it was reported by the numismatic press that these pieces had been transported from a Mint vault to the Fort Knox (Kentucky) Gold Bullion Depository for safe keeping. This move was directed by Mint Director Henrietta Holsman Fore. The move was made on August 30, 2001.

They have been assigned Judd number J-2190 in the 8th edition of "United States Pattern Coins, Experimental, & Trial Pieces". They were struck with the same reverse dies as the Cheerios/Pattern 2000-P Sacagawea Dollar.