The Gallery Mint's
"One Concept" Dollars
The Gallery Mint was a private mint devoted to preserving and exhibiting minting technology from ancient Greece through the Industrial Revolution. For an in-dept study of Gallery Mint products, visit the STM•GMM Scrapbook (Formerly the Gallery Mint Museum Scrapbook).
PRESS RELEASE 12/01/06
Gallery Mint Changes Ownership
(Eureka Springs, AR)-Gallery Mint Inc., the private mint founded by master engraver Ron Landis and his late partner Joe Rust fifteen years ago, has been sold to a limited liability corporation that includes former GMI employees. The new company, Striker Token and Medal, LLC, will continue operating in the same plant in northwest Arkansas and will continue producing the company's signature high-quality reproduction coinage.
Former Gallery Mint employee and now mint master for the Striker Timothy Grat said that all orders placed with GMI will be honored by Striker and the company will also stand by the limited production of past GMI offerings. "If it was a limited edition coin made by Gallery Mint, we will honor that limitation and not produce any more of those specific reproductions."
UPDATE: Striker Token and Medal shut down operations and ceased to do business as of October 31, 2007.
---
1995 Concept Dollars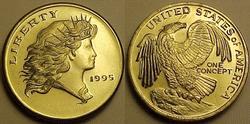 CLICK TO VIEW LARGER IMAGE
(Photo courtesy of Cliff Bolling)

Before the movement in the early 1990's could die, the Gallery Mint, a private mint in Eureka Springs, Arkansas, picked up the ball and ran with it. There is probably no single person in America that had more influence on the eventual striking of a new golden dollar coin than Ron Landis, the Gallery Mint's chief engraver. The Gallery Mint began with striking 1995 dated golden color "One Concept" pieces. There were 1,371 of the 1995 "One Concept" dollars struck and sold to patrons of the Gallery Mint. They have a lettered edge that reads "* IN GOD WE TRUST * E PLURIBUS UNUM".
It was discovered in the Summer of 2001 that these pieces were struck in both "coin die alignment" and in "medal die alignment". It is by no means conclusive, but it appears that the "medal die alignment" pieces are much rarer than the "coin die alignment" pieces. The die alignment is determined by rotating a coin on its north-south axis. If the reverse is then "upside down", it is a coin die alignment. If it is "right side up" it is a medal die alignment. Or, you can compare the die alignment with a United States coin. United States coins, as with most legal tender coins of the world, are struck in coin die alignment, hence the name. The biggest majority of tokens and medals are struck with medal die alignment.
There was also a variety of this piece struck of which less than 20 exist. It is distinguished by "In God We Trust" on the obverse and a starred edge.
(Photo courtesy of Verne Walrafen)
---

Obverse

After the 1995 "One Concept" pieces were struck, request began pouring in to the Gallery Mint to strike a piece that could actually have a chance of being approved by Congress. The first pieces struck were the Classic Lady Liberty head, dated 1998. These pieces were struck in conjunction with Ken Bressett, Past President of The American Numismatic Association, who was himself attempting to promote the use of the word "PEACE" on coinage throughout the world on year 2000 dated coins. Mr. Bressett distributed and promoted these pieces during the 1997 ANA convention held in New York City. They were struck on "normal" thickness planchets, in brass, have a plain edge, and a mintage of 110 pieces.

There were also three pieces struck on piedfort (double thickness) planchets.

For additional, pertinent information on these pieces, I strongly suggest you visit the Gallery Mint Museum Scrapbook's World Peace Coin Program subject.


"PEACE" Design Reverse
---

"Media Issue"
(11 Rays Obverse)
Regular Thickness Planchet


"Congressional Issue"
(13 Rays Obverse)
Regular Thickness Planchet


Common Reverse



Two varieties were struck in brass with the Statue of Liberty design, dated 2000, on normal size planchets featuring a plain edge. These are called "Media" and "Congressional" issues. The "Media issue", was distributed to selected members of the media. The "Congressional issue" was distributed to members of congress to provide an example of the proposed coin. The obverse design, by former Mint engraver James Ferrell, was found in the Mint archives and was suggested by U. S. House Representative Mike Castle. This design was actually written into the original bill. The reverse design was one of four designs that made it to the final round of the selection process. The "Media issue" and the "Congressional issue" are distinguished by the number of sun rays on the obverse. The Media issue has 11 rays and the Congressional issue has 13 rays. The actual mintage of the Media issue is unknown, but it is estimated to be between 55 and 70 pieces. An 11 Rays "Media issue" struck on a piedfort planchet was acquired by Verne Walrafen in March 2005. How many were struck on a piedfort planchet is unknown, but it is presumably unique. There were 100 pieces of the Congressional issue struck. (Photos courtesy of Mitch Hight)
---

Insert that was included
with the "Media Issue"


Insert that was included with
the "Congressional Issue"
---

HOW WOULD THE CONCEPT DOLLAR
DESIGN HOLD UP IN CIRCULATION?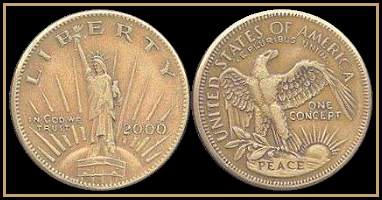 A POCKET PIECE CARRIED BY A GALLERY MINT
MUSEUM EMPLOYEE TO TEST ITS WEARABILITY


Question: How would the Concept Dollar design hold up in circulation? Answer: Very well, thank you. This 2000 Statue of Liberty Concept Dollar was carried as a pocket piece by Adam Hardcastle. At the the time Mr. Hardcastle was the Head Coiner at the Gallery Mint Museum. He carried it to test its wearability. It appears that this piece held up very well in circulation. It now exhibits a nice, Very Fine condition. This 13-Ray, 2000 Statue of Liberty Concept Dollar was struck on a regular thickness planchet. (See "Congressional Issue" above).
---
2000 "Piedfort Planchet" Concept Dollars

Classic Lady Liberty
(Piedfort Planchet) Dated 2000
CLICK TO VIEW LARGER IMAGE


Statue Of Liberty - (13 Rays)
(Piedfort Planchet) Dated 2000
CLICK TO VIEW LARGER IMAGE


Next, the Gallery Mint struck piedfort pieces of the Classic Lady Liberty and the Statue of Liberty designs. A piedfort is a presentation piece that is struck on a planchet twice the normal thickness. These limited edition presentation pieces were made in order to provide the opportunity for Gallery Mint patrons to obtain their very own piece of this historical event. The piedfort pieces had a limited edition mintage of 2500 pieces of each design. (Photo courtesy of Cliff Bolling)
---
2000 "Statue of Liberty - Modern Portrait"
Concept Dollar

Finally, a piece that's being called the "Statue of Liberty - Modern Portrait issue" was struck. These pieces were struck and handed out to the Dollar Coin Design Advisory Committee (DCDAC) during their meetings on June 8-9, 1998 in Philadelphia. The purpose of the DCDAC was to come up with a design recommendation for a new dollar coin.


OBVERSE
Regular Thickness Planchet


REVERSE
During their sessions they heard presentations and received proposed designed concepts suggested by the public. After much deliberation, the Committee recommended to Treasury Secretary Rubin that the obverse of the new dollar coin bear a design of a Native American woman, inspired by Sacagawea.The total mintage for the "Statue of Liberty - Modern Portrait" issue is just 47 pieces.
Note: There were also a very few of these pieces struck on piedfort planchets.
---
RON LANDIS PRACTICE ENGRAVING

Before engraving his designs into a die, Ron Landis will perfect his design by doing a practice engraving on whatever piece of metal is available. On this copper planchet he practiced engraving an Eagle on one side and wings and feathers on the other. It is not known if this is an actual practice engraving for the "Concept Dollar" or for one of the Gallery Mint Museum's many other creations, such as the 1796 U.S. coinage reproductions. Irregardless, it is a great addition to a "Concept Dollar" collection as a hand carved piece from the designer of the "Concept Dollars", Ron Landis.

This piece has been placed in a SEGS holder to establish provenance and to save it for posterity.
---


Concept Dollar Planchet Strip
This is a piece of planchet strip that the Gallery Mint used to punch blank planchets from that were used to create the "regular thickness planchet" Concept Dollars. That is, any Concept Dollar except the 1995 and piedfort pieces.
---
OFF METAL/WRONG PLANCHET
"ONE CONCEPT" DOLLARS
(A "Normal Planchet" For Each Of These Is Brass)
ALL OFF METAL/WRONG PLANCHET IMAGES COURTESY OF Gallery Mint Museum Scrapbook

COPPER PLANCHET


SILVER PLANCHET


COPPER PLANCHET


COPPER PLANCHET


SILVER PLANCHET





OVERSTRUCK ON A 1980-D
SUSAN B. ANTHONY DOLLAR


ANOTHER OVERSTRUCK ON A
1980-D SUSAN B. ANTHONY DOLLAR



COPPER PLANCHET



OVERSTRUCK ON A GMM COPY OF A
1796 LIBERTY CAP WITH POLE HALF CENT
---
For further, in-depth reading on the Gallery Mint's
"One Concept" Dollars, browse through these cleverly
titled Gallery Mint Museum Scrapbook subjects:
---