The Sherritt Mint's Columbus Prototype
In 1988, at the urging of the vending machine industry, talk of a new small size dollar began to surface. More than a dozen vending machine companies joined forces and hired Washington, D.C. lobbyist James Benfield, executive director of the Coin Coalition and a partner of Bracy Williams & Company, to promote their quest for a new small size dollar. Armed with knowledge of the failures of the Anthony Dollar, several recommendations were made to create a successful circulating dollar coin. The most notable recommendations were to create a dollar with a golden color to help distinguish it from other coins and to remove the paper dollar from circulation. By removing the paper dollar from circulation there was an added bonus, i.e. it would create an enormous monetary savings to the taxpayers. A dollar coin cost more to produce than a paper dollar, but it last virtually indefinitely and therefore would have to be replaced less often. A paper dollar last an average of 18 months in circulation before having to be replaced.
Since 1992 would be the 500th anniversary of Christopher Columbus' voyage to the New World, it was hoped by many that a new circulating dollar would be released with Columbus as the subject. Legislation was introduced into Congress in 1991 (H.R.1245) seeking a new golden dollar coin, but eventually met powerful opposition despite the best efforts of the Coin Coalition.
To coincide with the Coin Coalition's effort, the Sherritt Mint struck these beautiful aureate cupro-nickel-clad copper "America 500" prototypes. The Sherritt Mint was a supplier of coin strip to the Royal Canadian Mint and hoped to become a supplier for the United States Mint. Estimated mintage of these pieces is 10.
NOTE: The U.S. Mint did in fact strike several commemorative coins for the quincentenary of Columbus' voyage, including a large, 90% silver dollar. These coins were struck for sale to collectors and were not placed into circulation.
At least a few examples (mintage unknown) were struck in nickel-bonded steel. The exact purpose is unknown, but presumably as sample strikings of the Sherritt Mint.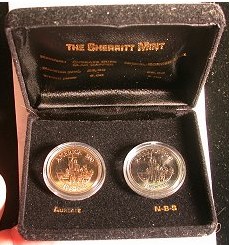 PRESENTATION CASE
WITH BOTH TYPES