The Experimental Rinse Sacagawea Dollars
A 2001-P SACAGAWEA DOLLAR THAT WAS STRUCK
BY THE U.S. MINT IN PHILADELPHIA AS PART OF A
GROUP TO TEST AN EXPERIMENTAL RINSE
PHOTO COURTESY OF BYERS NUMISMATIC CORP
The Sacagawea Dollar has not been lacking in surprises during its existence, and this coin is no exception. These pieces were treated with an experimental rinse in an effort to to prevent the spotting that plagued the series in its infancy. Discovered in April 2001, these unprecedented pieces exhibit a beautiful golden brown color. Approximate mintage is 2,500. Here is their story.
In 1999, the Mint experimented with the composition, layers and finish for the alloy to be used for the Sacagawea Dollar. They finally settled on a clad composition with outer layers of 77% copper, 12% zinc, 7% manganese, and 4% nickel over a center layer of pure copper. However, even with careful planning and experimenting, the 2000 Sacagawea Dollars, which was the first year of issue, were plagued with spots, discoloration, and tarnish, even when pulled from bags or rolls from the bank.
There have been several articles in the numismatic press which have described in detail the problems that the U.S. Mint was having with the composition and finish of the new Sacagawea Dollar. In one article, Michael Fahey of ANACS describes the finishing process for the burnished Sacagawea Dollars, explaining that the rinse was "used to remove any surface residue from the coins, and to prevent spotting."
Furthermore, there was a program on the Discovery Channel devoted exclusively to the U.S. Mint and the production of United States coinage. In this program, viewers got a close up look at the entire minting process. A segment of the program included an interview with then Mint Director Phil Diehl regarding the new Sacagawea Dollars. The segment elaborated on the tests and experiments that were conducted by the Mint on this new alloy for the Sacagawea Dollar. Small quantities of blank planchets and struck coins were subjected to chemical testing, exposure to artificial sweat, mechanical wear and tear, artificial wear and electrical testing.
Knowing that the Sacagawea Dollar in its first year of production was plagued with these problems, the U.S. Mint continued to experiment and conduct tests on the surface with chemicals and rinses to ensure that future years of production would not have similar problems. This small hoard was discovered through the normal distribution channels by an alert counting room employee who instantly noticed that these were different in color, appearance and texture. This individual contacted David Hendrickson of Silver Towne, one of the largest coin dealers in the Mid-West, and subsequently sold these discovery pieces to him. Silver Towne then sold the pieces to Mike Byers of Byers Numismatic Corp., a well know west coast error dealer. This group of coins was then authenticated and certified by SEGS (Soverign Entities Grading Service) as having an "Experimental Rinse By U.S. Mint To Prevent Spots".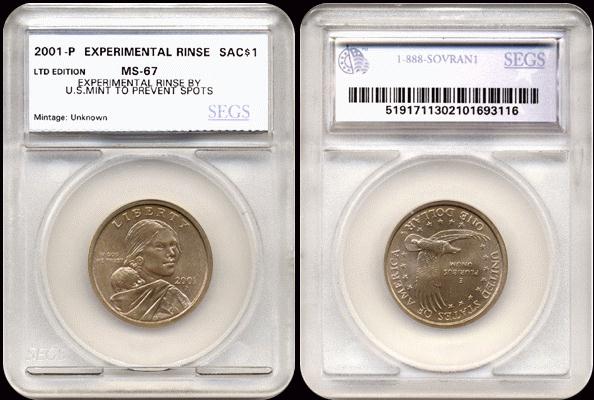 ONE OF APPROXIMATELY 1000 EXPERIMENTAL RINSE
2001-P SACAGAWEA DOLLARS CERTIFIED BY SEGS
PHOTO COURTESY OF BYERS NUMISMATIC CORP
Another world renowned Mint Error expert, Fred Weinberg, has examined some of these experimental pieces and agreed that they have "an experimental rinse or finish." He further states that "these coins have an unusual Patina, look, texture, and surface on them". This rinse/finish was applied by the United States Mint to hopefully eliminate the spots and discoloration.
An unknown number of 2001-P Experimental Finish Sacagawea
Dollars have been nicely slabbed by Global Certification
Services, Inc. Here is a photo of the front and back on one.

In the Fall of 2004, highly respected
PCGS began recognizing the
Experimental Rinse Sacagawea Dollars.
---
DID YOU KNOW?
Sacagawea and Presidential Dollars are composed of 3.5% manganese. This is not the first time manganese
was used in our coinage. The "War Nickels" of 1942-1945 are composed of 9% manganese.
---
There are some 2000-P Experimental Rinse Sacagawea Dollars Too







A 2000-P EXPERIMENTAL RINSE
SACAGAWEA DOLLAR IN A SEGS HOLDER
A 2000-P SACAGAWEA DOLLAR THAT WAS STRUCK
BY THE U.S. MINT IN PHILADELPHIA AS PART OF A
GROUP TO TEST AN EXPERIMENTAL RINSE
Approximately ten 2000-P dated Experimental Rinse Sacagawea Dollars are known to exist. It is unlikely that the experiment was conducted in both 2000 and 2001. So how did it come to be that these pieces exist in both years? While not definitive, one explanation is as follows. The actual experiment was conducted in late 2000. The planchets were dumped into hoppers. One hopper, with a very few experimental planchets, was used to strike 2000 dated coins. Another hopper, with the vast majority of experimental planchets, was later used to strike 2001 dated coins.
---
2006-D Experimental Rinse Discovered
| | |
| --- | --- |
| PHOTO COURTESY OF RUSS FLOURNOY | Numismatist Russ Flournoy is the discoverer of this coin. In reporting his discovery, Russ states, "Earlier this year (2006), I bought a few rolls of Sacs from the Mint as soon as they were available. Right away I noticed something odd. The end coin from the Denver Mint roll was a strange color and had some odd "hits" on the rims. I kept it in the roll for as long as I could. Then temptation got the better of me. I kept thinking "What does the other side look like?" and "Are there more in there just like it?". Well, I finally opened the roll and this was the only one of its kind there. I was able to see Fred Weinberg in Long Beach in June (2006) and he classified it as an Experimetal Rinse. He said that it is the first from Denver he has seen and the first dated 2006. Off to PCGS it went. Funny thing is, the slab has an error too." Russ also states that the shipping box that his Sacagawea Dollar rolls came in were Mint dated "8:04 AM 2-22" (2006). |
---